I have a major thing for teapots. I don't quite know how it developed, but I believe it comes from being in love with "Alice in Wonderland" and just the lovely quaint feeling you get when you pour a cup of tea.
I received an email quite a while ago from Gail Steele who is an award winning ceramic artist hailing from NSW, Australia. She owns a place called "Ab. Fab. Ceramics" where she runs ceramics classes. Her link to her website sent me to
this page.
Her students and herself had made a lovely bunch of teapots to auction off for the Cancer Council. I wish I lived in NSW (I'm across the other side of the country), I would love to learn how to make teapots from such a talented person. Here are some photos of what was auctioned at the charity morning tea, with details of my favourites!

Such an elegant teapot!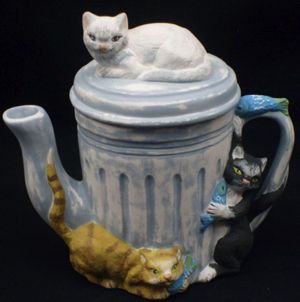 I love cats so of course I love this teapot.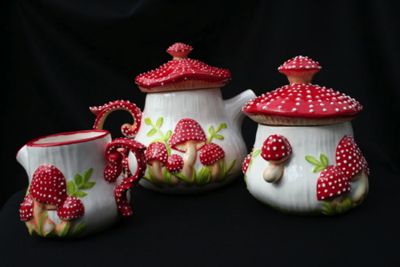 And my absolute favourite! How could you resist such an adorable tea set!
If you live in NSW, head over to her website
Ab. Fab. Ceramics
for more information about taking classes.